Smartwatches
Smartwatch DT8 Ultra +
– 2.1 inch HD large screen
– Strap Lock
– Multisports hot key
– Multitasking Bar Show
Smartwatch DT8 Ultra +
Smartwatch DT8 Ultra +
– 2.1 inch HD large screen
– Strap Lock
– Multisports hot key
– Multitasking Bar Show
Chip
RTK8762DK
Size
49*43*11.5mm
Weight
46g
Body
Alloy
Waterproof
IP68
Material
2.1-inch TFT full view color screen
Screen resolution
420*485
Battery capacity
280mAh
Charging method
Wireless charging
Charging time
About less than 5 hours
Daily use
5 days
Power saving mode
20 days
Strap Materail
Fast detachable silicone straps
Strap Width
21.5mm
Language
English, Chinese, Traditional Chinese, Danish, Greek, Latin, Romanian, Turkish, Hebrew, Czech, Polish, Spanish, German, Russian, Portuguese,French, Japanese, Italian, Vietnamese, Korean, Arabic, Persian
Products include:
Smart watch *1
Cable *1
Manual *1
Packaging box *1
About way of shipping, we can accept to Air transport, Parcel shipping
Container transport, Rail transport, Marine transport, transport age
MQQ: 100PS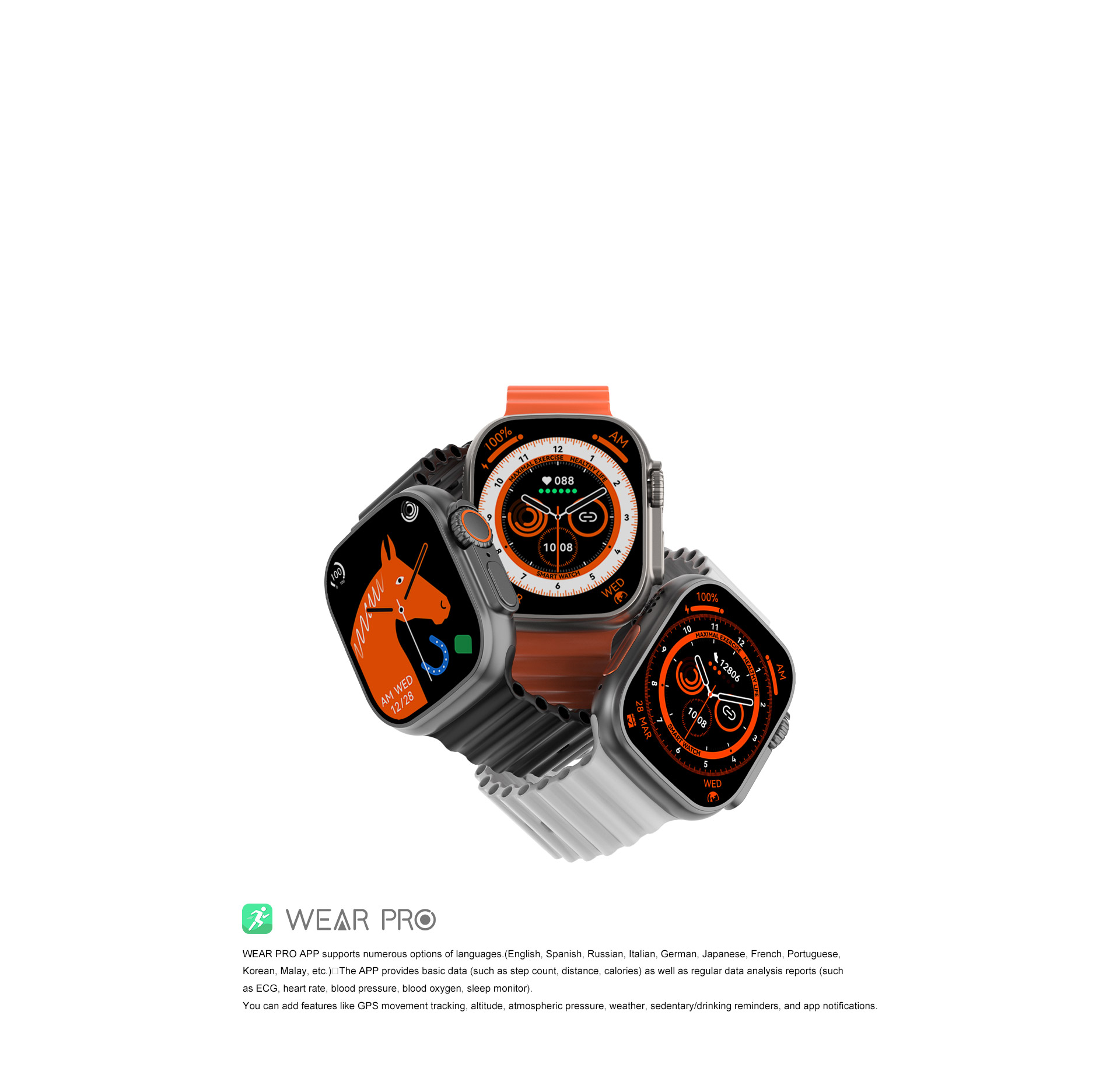 SMART WATCH
DT8 Ultra+
More than a sports watch
Giving you the
best screen quality
2.1-inch TFT high-definition large screen
G+F blast-resistant tempered screen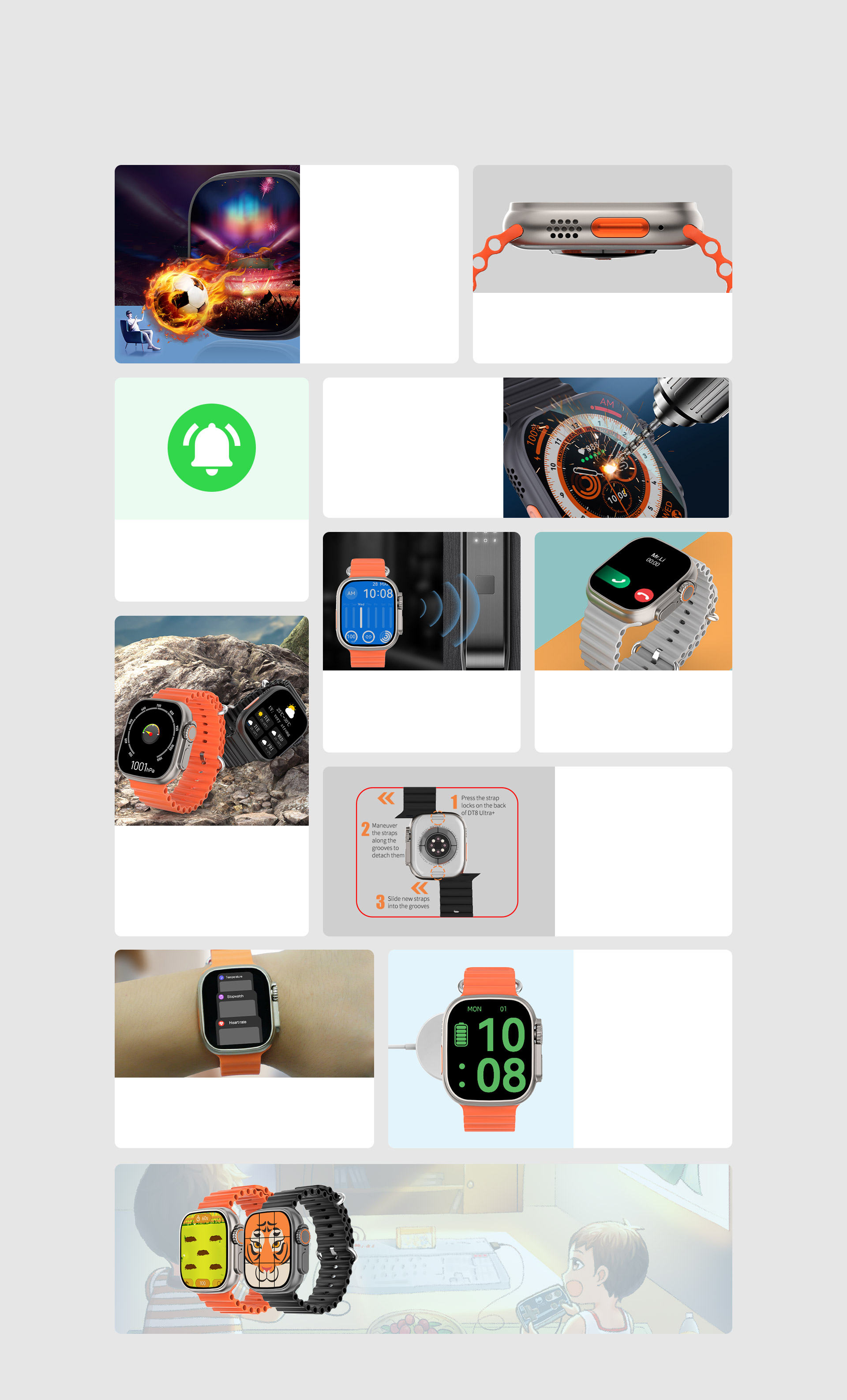 High-end flagship
DT Series born with quality
2.1-inch HD screen
2.1-inch HD full
screen Narrow
bezel design
Multi-sports hot key
Brand new sports hot key
Easy to use
Blast-resistant
glass
Independent ringtone
NFC access control
Bluetooth call
One binding to synchronize contacts and
enable the function of Bluetooth call without
binding smartphone Bluetooth manually.
Atmospheric
pressure
monitoring
Strap locks
Fast detaching or attaching saves
you time and energy.
Multitasking background
Wireless charging
Bedside lamp mode
Say goodbye to the shackles of wired
charging and enjoy the convenience of
wireless charging.The charging
interface is eyes friendly with always-on
diaplay. No more blindly fumbling, and
give you a warm-hearted company
at night
Games on your wrist
Inbuilt mini games, such as
Whac-A-Mole, Jigsaw puzzle,etc.
Being the focus among your friends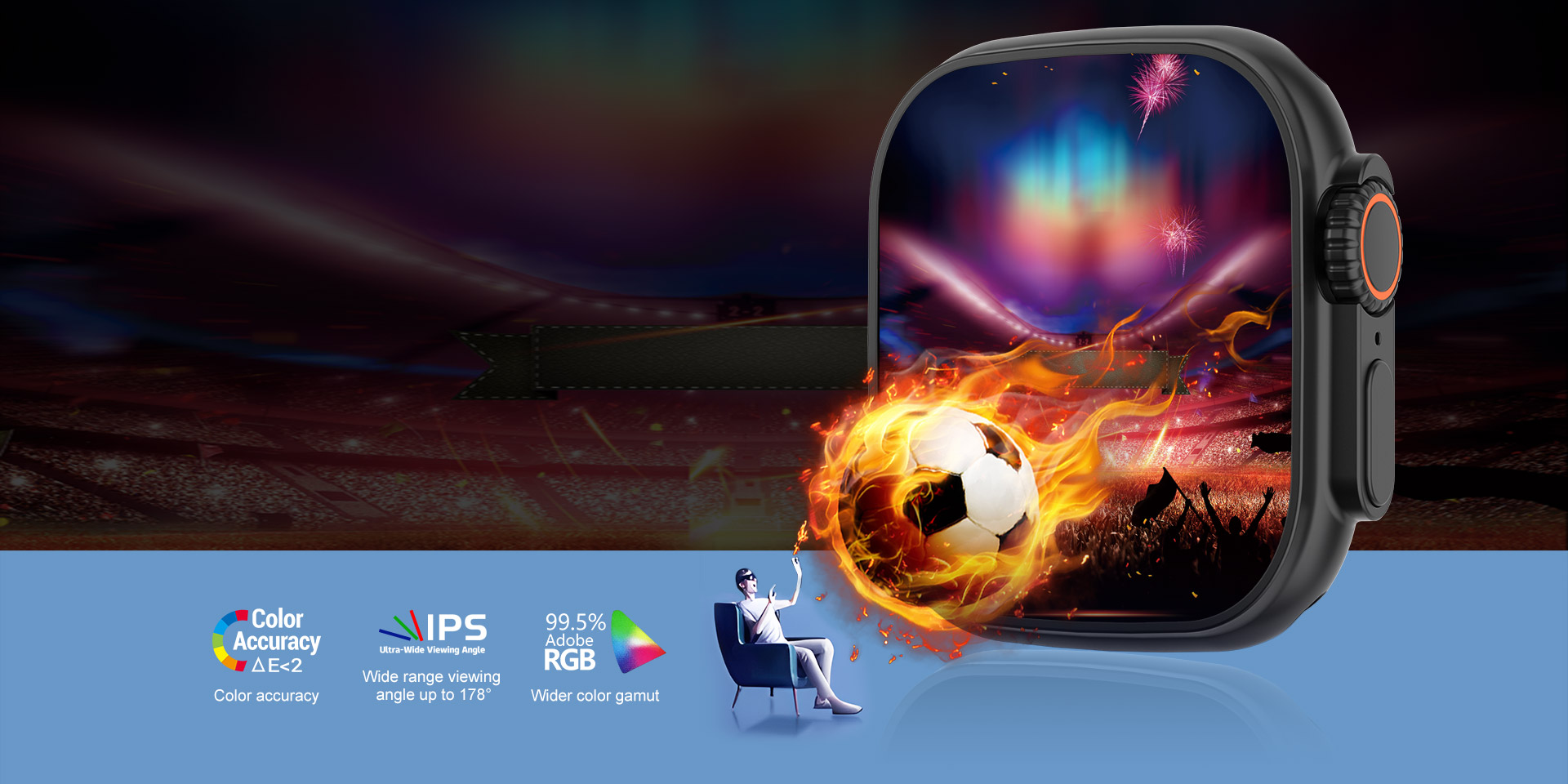 The 2.1-inch HD screen is
obviously bigger than before
The 2.1-inch HD screen has enjoyable brightness of
320ppi and a high resolution of 420X485, improving the
whole user experience that the smartwatch DT8 Ultra+ is
much easier to read and use. The narrow bezel design
ensures visual enjoyment.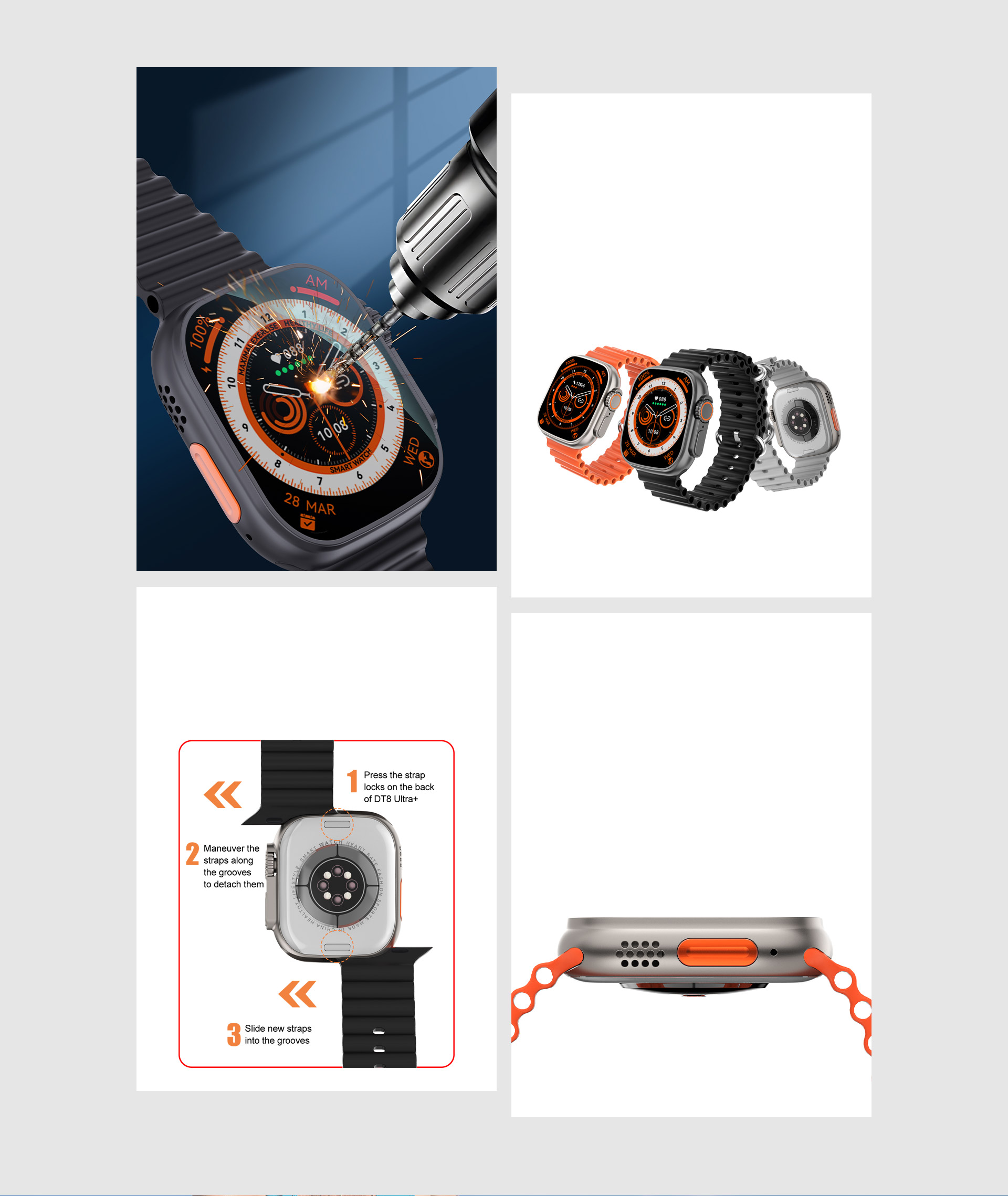 G+F blast
resistant glass
G+F blast resistant glass has already achieved an
incredible hard level. The hard layer of ordinary
tempered glass is about 8-12um, and the hard layer
of Corning glass after chemical strengthening is about
40um, which can resist the daily scratching and grinding
of hard objects easily.
Design
Pioneering craft
Meet the most rugged and capable DT Watch ever. With a robust
metal case, DT8 Ultra+ can master any challenges of all kinds,
showing the watch is born to be tough. Packed with numerous
sports modes, DT8 Ultra+ is ready to face challenges anytime.
Start to radiate your enthusiasm and burn your calories.
Fast detaching or attaching
saves you time and energy.
Only a few seconds are needed
to attach or detach straps.
Multisports hot key
One click to start
your exercise
Numerous types
Buttons for easy use. One click the brand new physical button to
enter the sport interface,releasing infinite potential.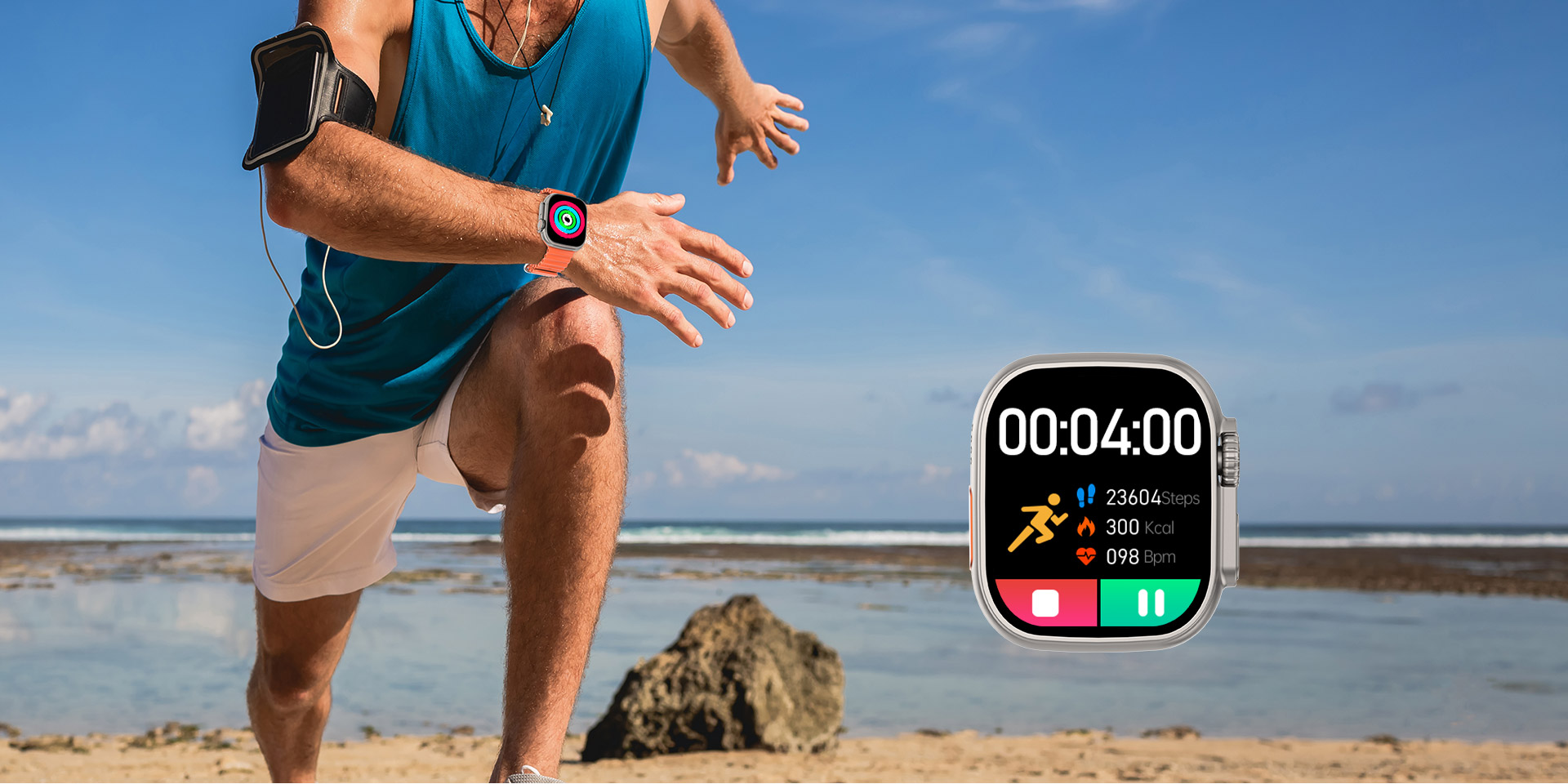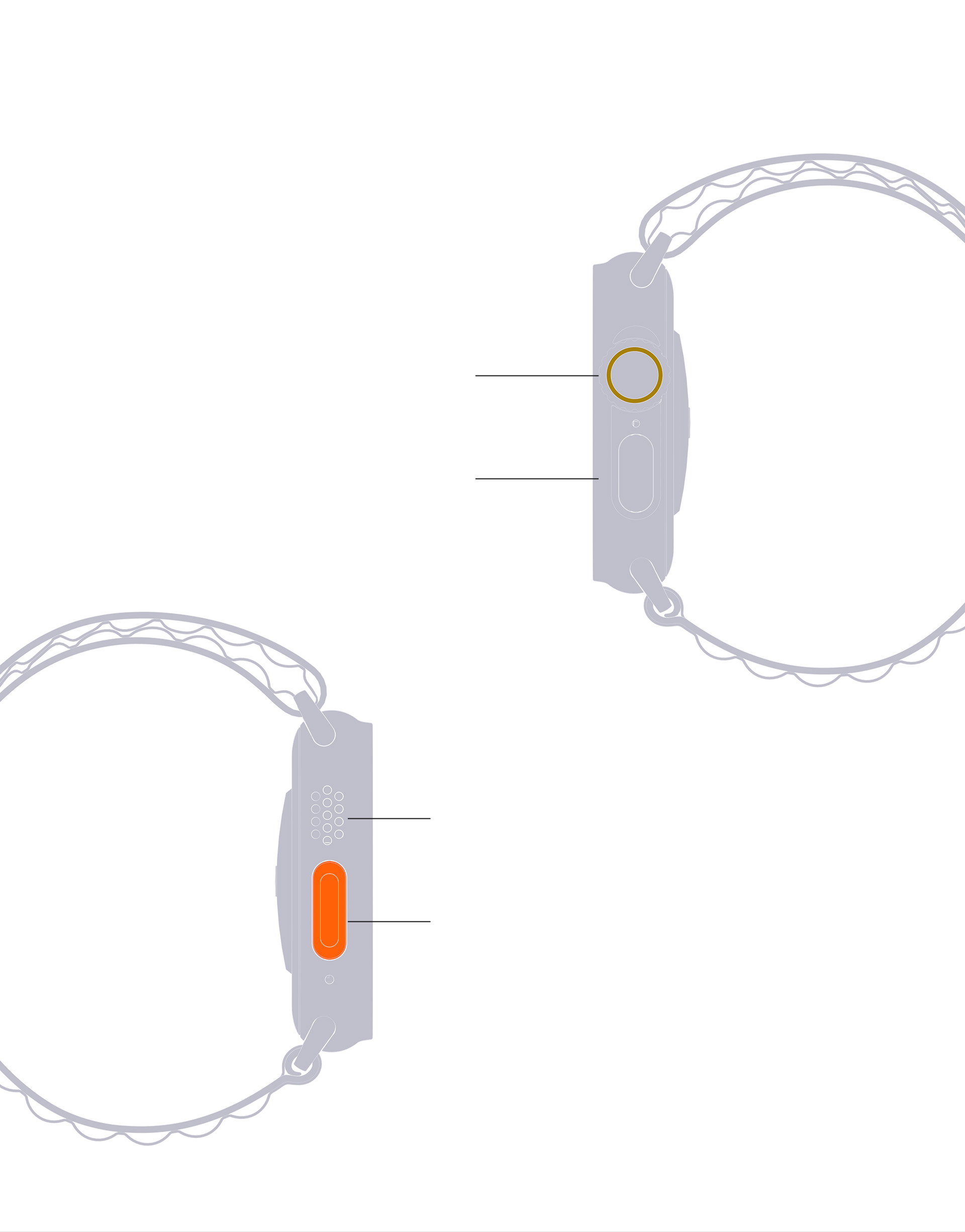 Everything is ready
Packed with flexible and comprehensive features,
DT8 Ultra perches on your wrist helping you with
its amazing ability.
Digital Crown
Larger diameter and deeper groove
make the button easier to use
Buttons on the sides
Used to turn on/off the watch and go
back to the main interface.Short press
to enter multitasking background,
long press to turn off the watch.
High fidelity speaker
Incoming call ringtone and
the volume of voice assistant
Action button in international orange
One click to enter multi-sports mode.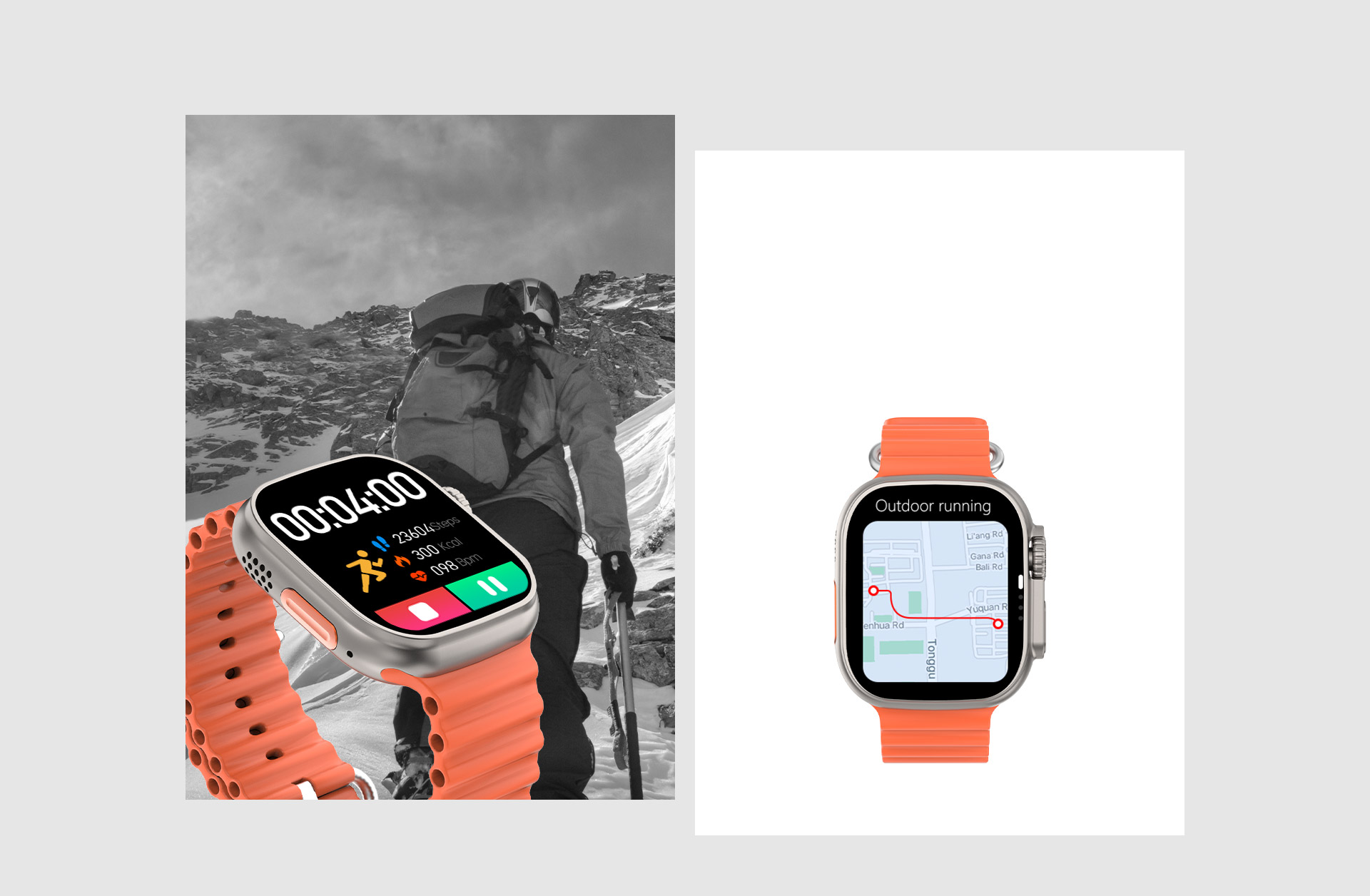 Endurance Sports
Explore unknown
with you far away
Cover your physical training with data like
heart rate and blood pressure.More functions
related to sports. Longer battery life.
GPS movement tracking
Turn on the running function in the APP, and the APP
will record your movement route. Accurately record your
every step, calorie consumption, and push the data to
the watch for you to view after your exercises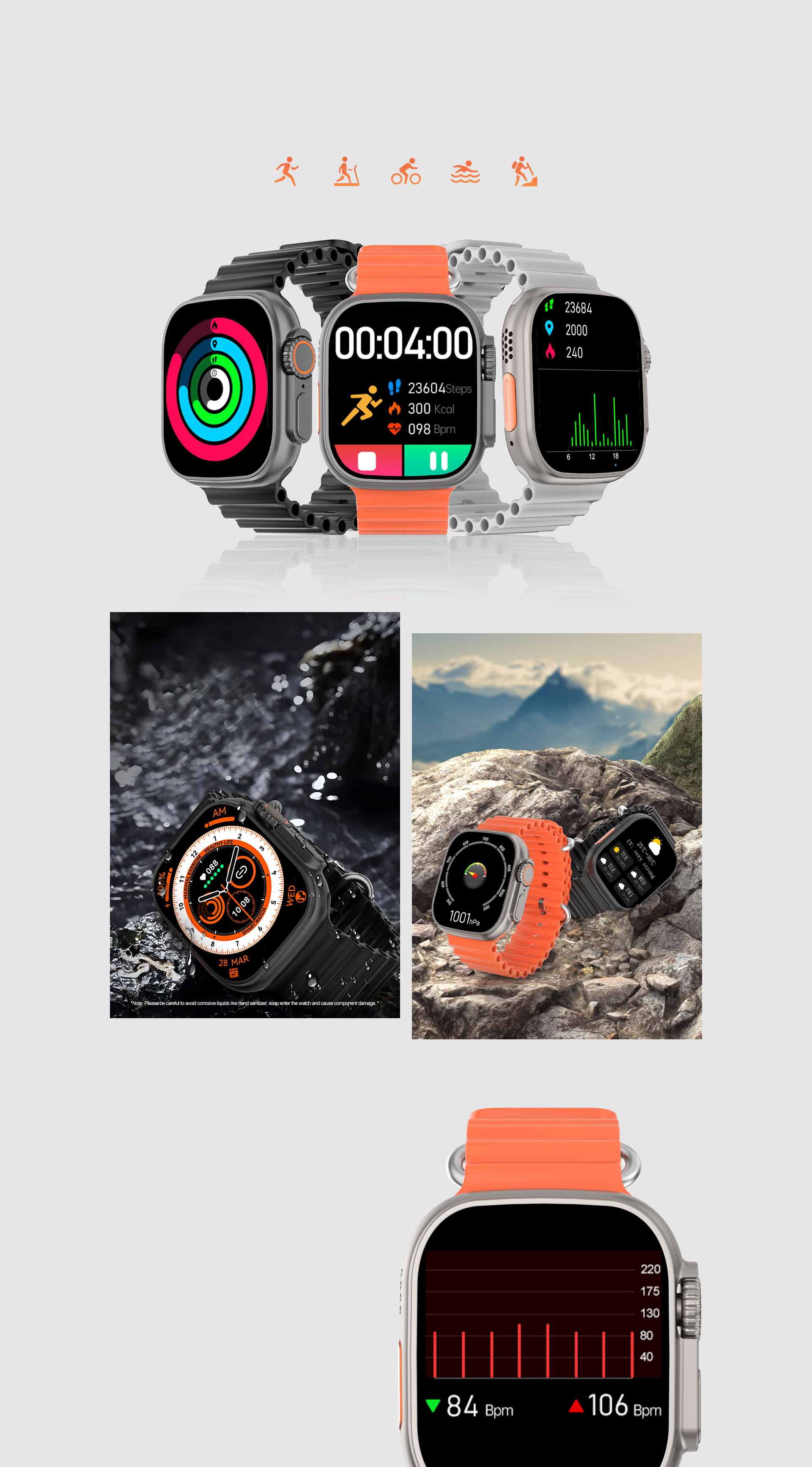 Multisports mode
Support indoor and outdoor multiple sports modes, providing real-time monitoring
for most of the sports and generating data like heart rate, distance, pace,
and calories consumption.Help you explore new areas of sports and enjoy
better physical performance.
IP68 waterproof
IP68 waterproof and dustproof allow
the watch to be used normally when
washing your hands and in rainy days
without fear of wind and rain
Atmospheric pressure
Pay close attention to changes and trends in atmospheric
pressure to predict sudden changes in weather and prevent
altitude sickness in advance to help ensure a safe trip.
Accurately dynamic heart and
blood pressure monitoring with
an off-hand monitoring sensor.
Accurate dynamic heart rate and blood oxygen monitoring
with an off-hand monitoring sensor always pays attention
to your heart health, and can monitor heart rate/blood
oxygen for you 24 hours a day, realizing [real-time
heart rate monitoring] and [rapid blood oxygen
measurement]. This function is based on biological
tracking sensor and optical sensor, which effectively
helps monitoring.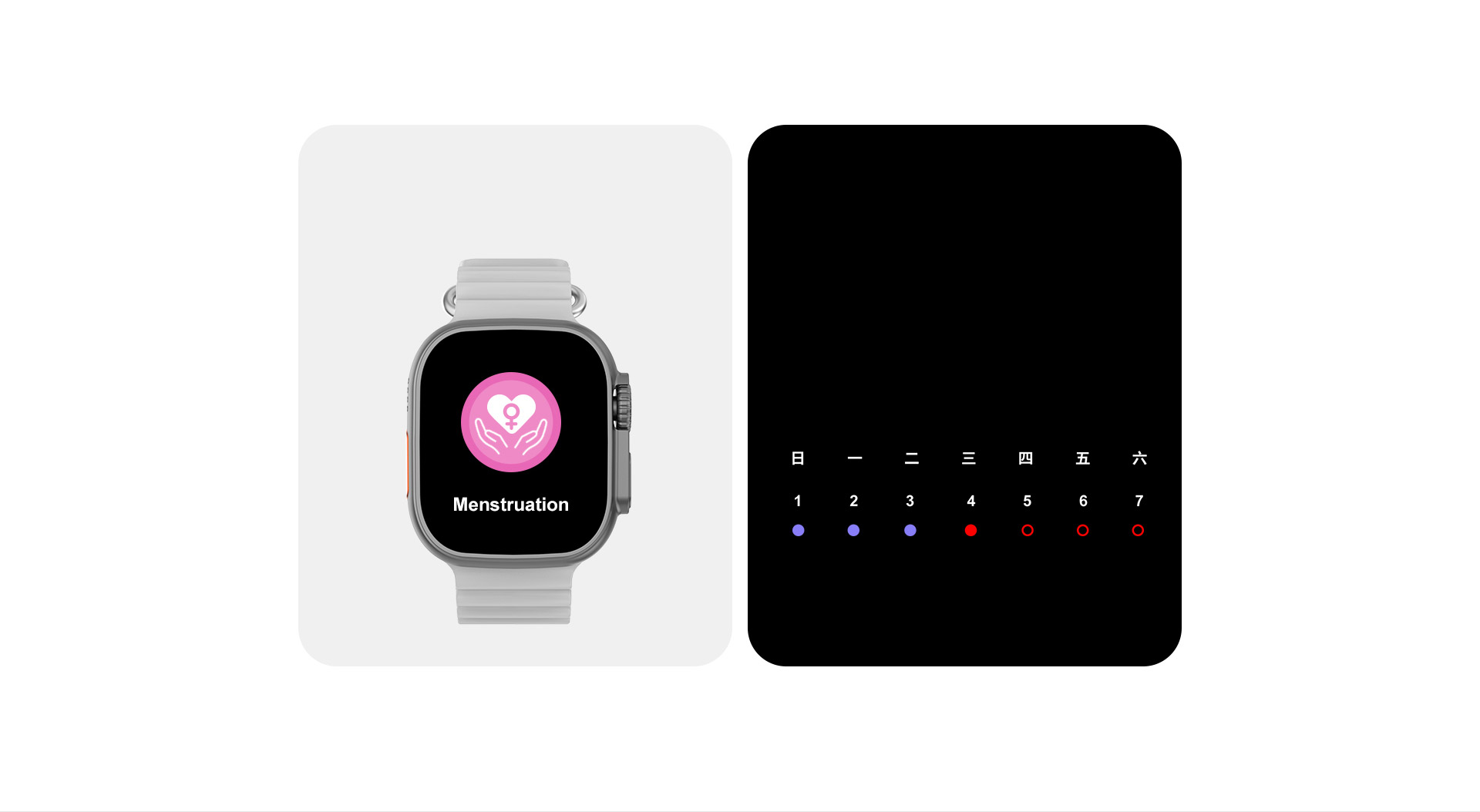 Easier to estimate the
day of ovulation.
Femal menstrual cycle. A newly
added innovative sensor can monitor
the changes in your body temperature
and present the changes of a longer
period. Combined with data on heart
rate and the manually input data of
menstruation, this technology can allow
females to know about their menstrual
cycles better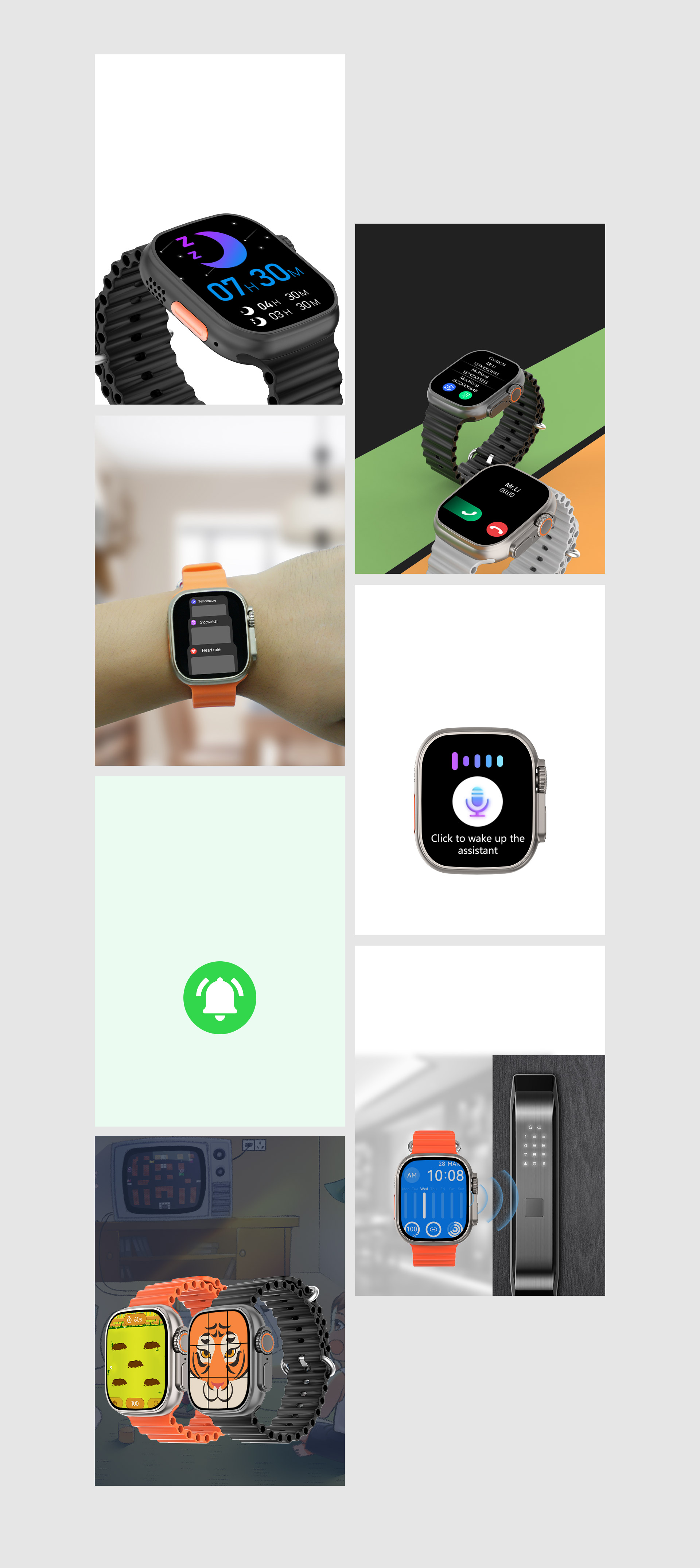 Sleep monitoring
Accurately monitor different stages of sleep, deep
sleep, light sleep, rapid eye movement period, and
naps. Professionally interpret the sleep characteristics
of each period, and analyze sleep quality to help you
adjust your sleep habits and get better quality sleep.
Bluetooth call
One binding to synchronize contacts and enable
the function of Bluetooth call without binding
smartphone Bluetooth manually.Easy binding
gives you more convenient calling and freedom
of communication.
Multitasking background
Click the lower right side button to enter the multitasking
background. Users can fast locate any apps that they
want to use, which makes operations more effective.
Any question? Voice
assistant here's to help!
DT8 Ultra+ has
independent ringtones for incoming
calls, messages, alarm clocks, etc.,
which allow you to set up ringtones
based on your styles.
NFC access control
Games on your wrist. Inbuilt mini games,
such as Whac-A-Mole, Jigsaw puzzle,etc.
Being the focus among your friends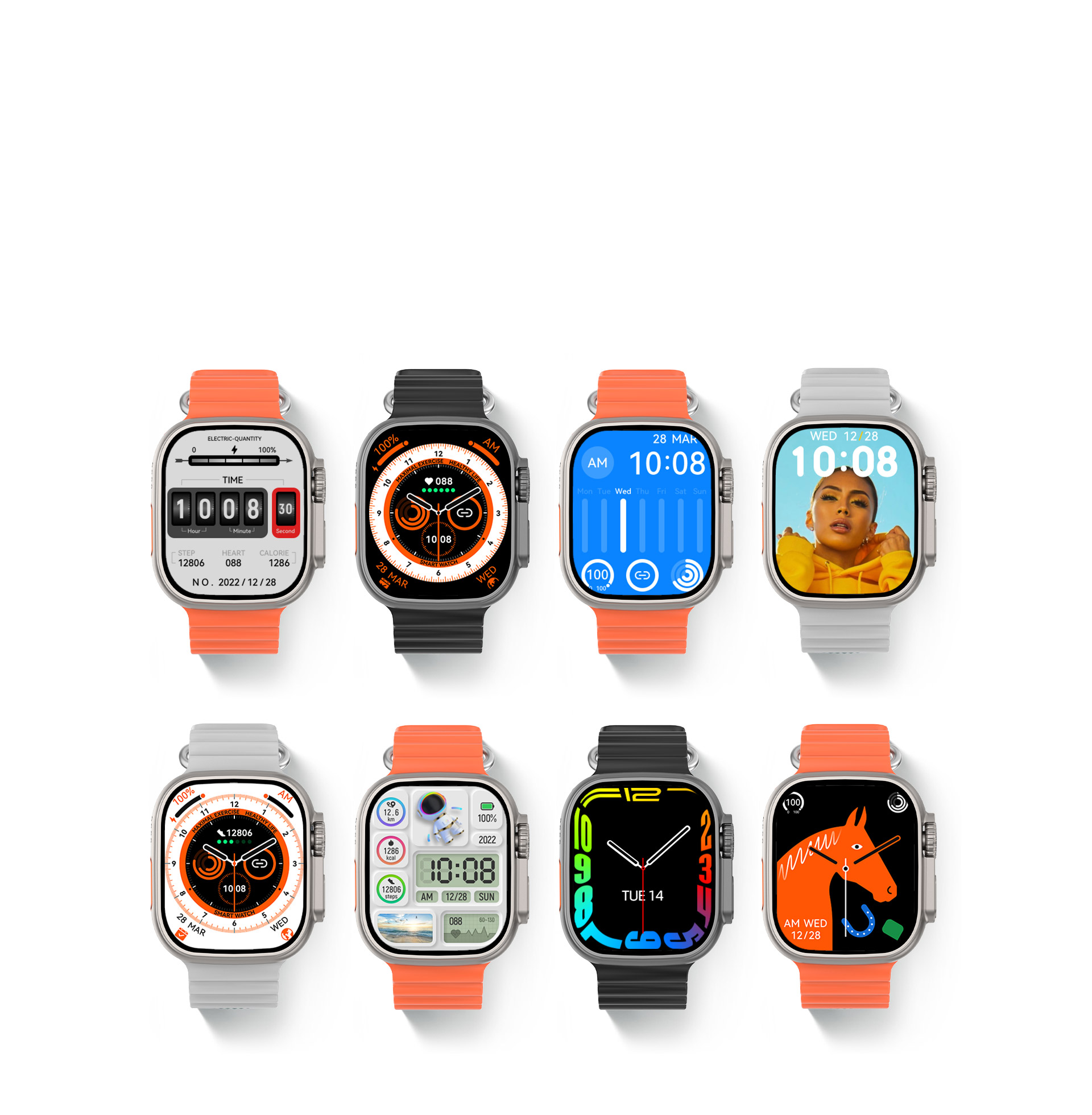 Countless watch faces
Massively well-selected watch faces with genres like technology,
sports, machinery, cartoons…There are more dynamic watch faces
and custom watch faces. You can always find out one which suits
you and fit your aura perfectly.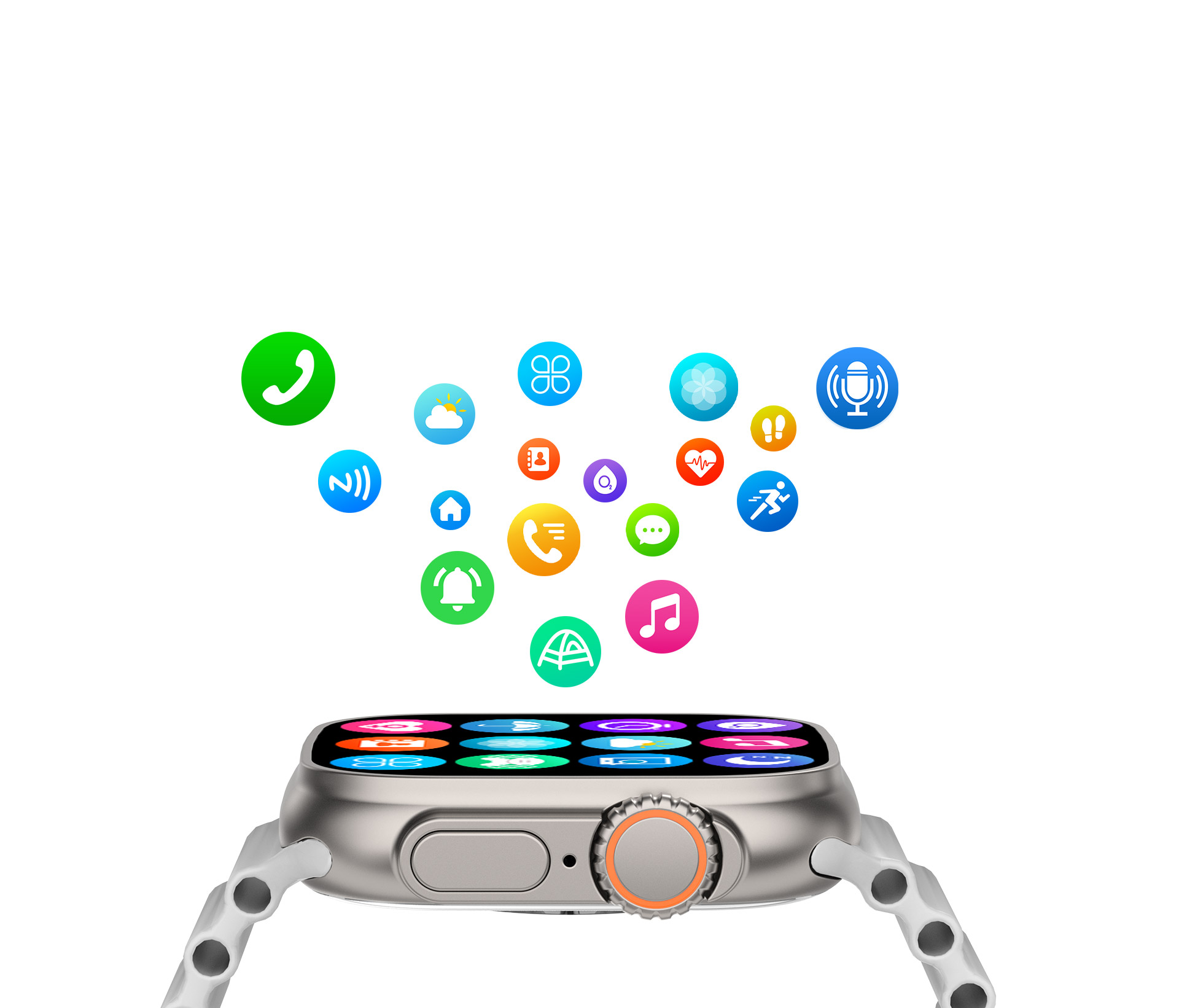 Rich applications
Bluetooth call, breath training, sedentary reminder, password
protection, offline payment, voice assistant,health monitoring,
multisports mode, GPS movement tracking, camera remote
control,Bluetooth music… Numerous watch faces are waiting
for you in the APP WearPro.
WearPro
The smart watch is connected to the newly upgraded WearPro App.WearPro is an all-weather health management platform, Can record various sports and body state data.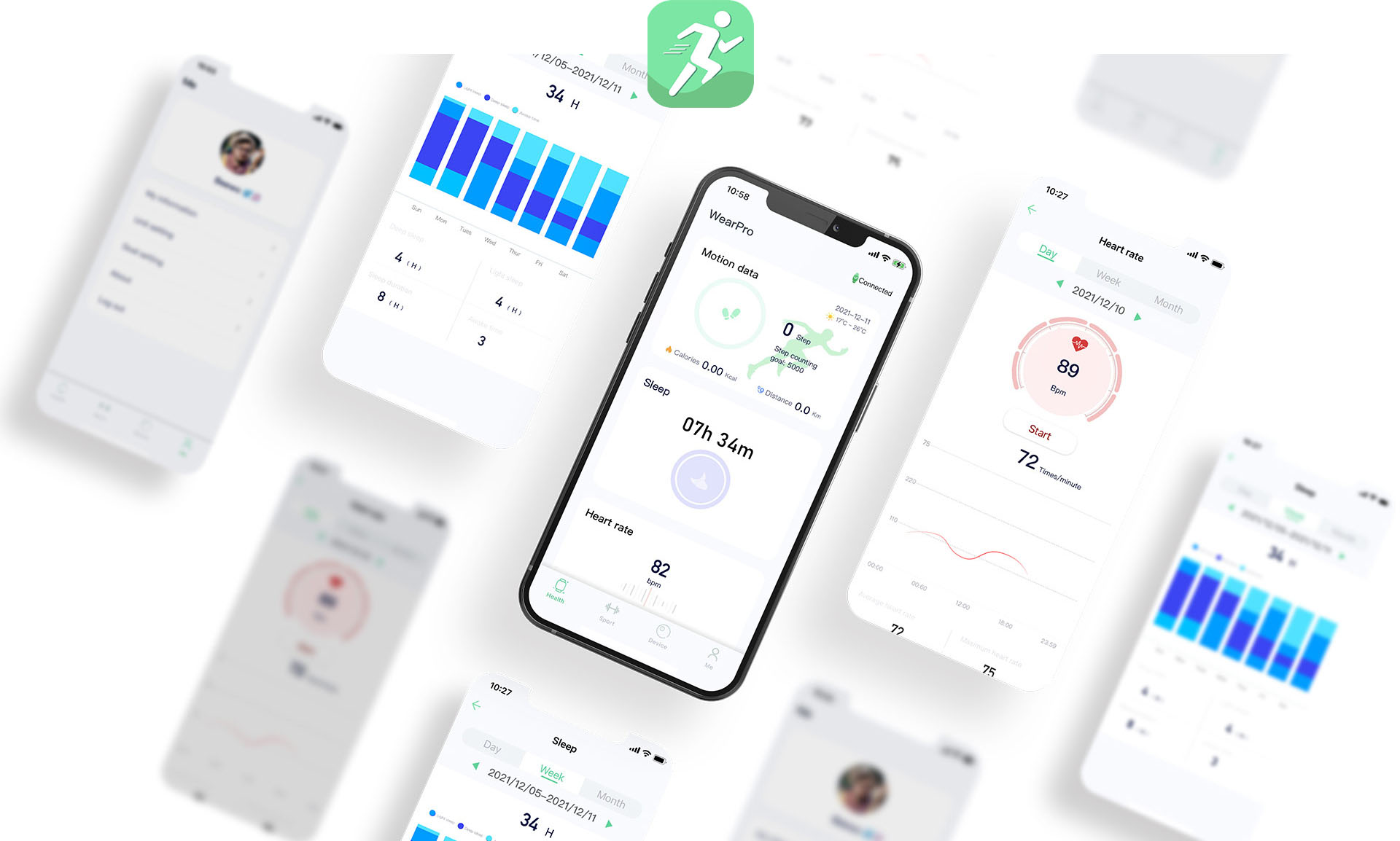 FAQ
Why does the back of the bracelet automatically glow green?

The green light is when the bracelet is trying to monitor the heart rate. If you turn on automatic heart rate monitoring, the bracelet will automatically light up. If you select manual heart rate monitoring, it will not automatically light up. Our bracelet uses the current mainstream optical heart rate monitoring, please rest assured to use it.

Use the camera function

You can place your mobile phone far away and take pictures by lifting your wristband.
(1) The Bluetooth connection between the bracelet and the mobile phone needs to be maintained;
(2) The APP needs to obtain the permission to call the system camera.

Is the watch waterproof? Can I wear it for bathing or swimming?

It is only waterproof for life, please do not wear it when bathing or swimming.

How to change the time of my device?

Please synchronize the device with your mobile phone via Bluetooth to calibrate the time.

Where can I download the WearPro APP to use the watch?

You can easily find them by searching for the WearPro APP name on Google Play or App Store.

Does your smartwatch support battery replacement?

Sorry, our smart watch does not support battery replacement.
Based on 0 reviews
Only logged in customers who have purchased this product may leave a review.